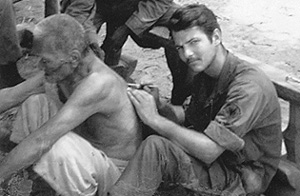 198th Lt. Infantry, N. of Chu Lai, 1967 Treating a local villager

Contact Alan Pogue
e-mail: alanpogue@mac.com

Texas Center for Documentary Photography
2104 E. Martin Luther King Blvd
Austin, Texas 78702


(512) 478-8387 fax: (512) 478-8387


Eye of the Movement

Alan's work fearlessly crosses a line beyond which many practitioners of modern journalism and fine art will not go. Long ago he rejected the technical distance and objectivity many prefer in favor of a committed caring for human beings, often in the midst of frightening circumstances.

Beautiful and captivating, Alan's images subtly but powerfully resonate in the soul and in the conscience. They stir us to do something, or to support or vote for something or somebody that can make a difference if we get the chance.

In 1968, when he came home from his tour of duty as a battlefield medic in Vietnam, Alan Pogue began using photography to look into society's wounds for the possibility of cultural healing. On a battlefield, a medic has to be able to see clearly, honestly and to be strong in the love and mercy required for the work of healing.

Alan Pogue's first great body of work, resulted from living and marching with Texas migrant farmworkers as they struggled for better working conditions in an environment in which people were getting shot.

Some of those images were widely circulated as posters and became movement icons. Alan's photographs helped change the way the Texas public saw farmworkers, and Mexicans in general. His images were more than mere photographs. They helped achieve real political progress. If you were at all sensitive, when you shopped for vegetables, particularly organic produce, you had to have visions in mind of the dignity of working people whose hands had pulled those same grape or spinach bundles from the ground. This changed you.

Over the years, his photos have appeared in several national and international publications including the New York Times Magazine, The Boston Globe, The Washington Post, The L.A. Times, The Austin American Statesman, The Dallas Morning News, Kyodo News and Asahi Shimbun in Japan, and Texas Monthly. Alan has also served as staff photographer for the Texas Observer since 1971.

Alan's many honors include a Dobie-Paisano fellowship and being named Austin's "Best Photographer" by the Austin Chronicle's Readers Poll ten years running, 1990-1999. His work has been widely exhibited nationally and internationally. In 1989 Alan's National Farmworker show, sponsored by the National Center for Farmworker Health, was shown in the Cannon House office building in Washington, D.C. The exhibit continues to travel.

In 1995 Alan was invited to present his work on border issues in North America at an international conference at The Sorbonne. In 1998, at the request of C.U.R.E. (Citizens United for the Rehabilitation of Errants), and with the help of a grant from Resist, Alan produced a nationwide show on prison reform that opened in 1999 at the Washington Center for Photography which is still traveling.

Alan made several trips to Iraq with Veteran's For Peace, (he was on the national board for three years and helped found the Austin Neil Bischoff Chapter), in a campaign to repair water treatment facilities and raise international awareness of the suffering caused by U.S./U.N. sanctions. An exhibit from this work is also circulating nationally.

More recently, Alan was commissioned by a Japanese peace group to travel to Peshawar, Pakistan to document conditions among refugees displaced from Afghanistan by the war there, and to show photographs from this trip in Tokyo. He traveled to Antrim, Ireland to exhibit his work in May, 2005. He is also exhibiting work from trips to Haiti, to call attention to conditions there.

Alan Comments on his
"Prison Portfolio"

"After returning from Vietnam in 1968 I was jailed three times for anti-war activities. Once arrested I learned that one is guilty until proven innocent. I also learned that a poor person has very little chance against the arbitrary power of the state. In 1972 I began photographing prison conditions for the Austin Prison Coalition. Through the leadership of Charlie and Pauline Sullivan, this and other Texas prison reform groups were organized under the name of C.U.R.E. (Citizens United for the Rehabilitation of Errants). My involvement with C.U.R.E. led me to photograph the Ruiz vs. Estelle federal suit against the Texas prison system. This landmark case brought to light the overcrowding, corruption and brutality within the Texas prison system.

At the request of C.U.R.E., and with the help of a grant from Resist, I produced a nation-wide show on prison conditions. In 1999 this show opened at the Washington Center for Photography and has since been touring the country. The photographs in this collection were taken in Texas, Colorado, Missouri, California, Washington D.C., Maryland and New York."